Get Synvisc-One for your patients
Did you know?
Osteoarthritis (OA) affects more than 3 million Canadians and these numbers are expected to rise in the coming years.
Knee OA is commonly thought of as a disease that affects older people, but this is not always the case.
In fact, in the next 10 years, more than half of patients diagnosed with knee OA are expected to be between the ages of 45-64.
In the US the mean age of knee OA diagnosis fell from 72 in the 1990s to 56 in the 2010s.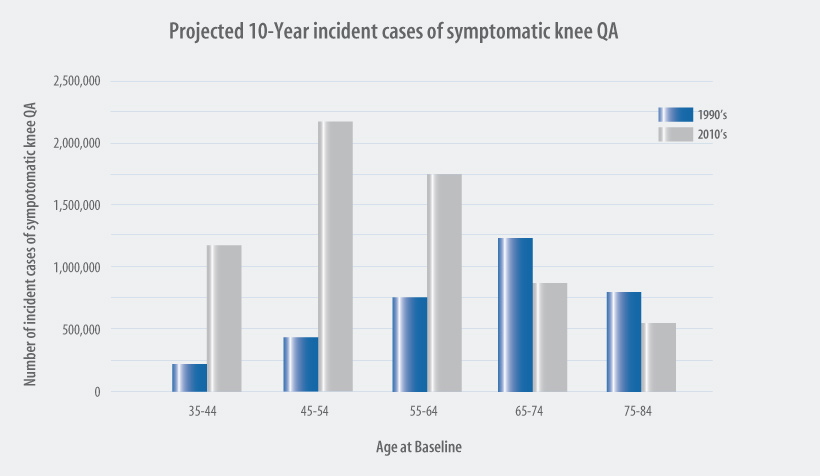 That's where you come in!
You are part of the solution!
We consider ourselves healthcare partners in the fight against OA and would like to help you enhance your OA program.
Want direct access?
To get Synvisc-One® simply contact your local Synvisc-One representative.
Your local representative can work with you to help provide these treatment options for your patients.
To find a representative in your area please call: 1-800-796-7991
Learn more about our OA program support services
Patient brochures and educational materials are available to help educate your patients about OA.
To request more information or support material call: 1-800-796-7991
Become an injection centre
Are you already performing viscosupplementation injections? Looking to expand your OA services?
We'd like to help patients find you or your clinic so they can benefit from the OA program you offer. Contact us to find out how we can help.
Synvisc-One®
Synvisc-One is a treatment to decrease pain and discomfort associated with osteoarthritis that replaces the diseased synovial fluid in your knee with a gel-like substance that is very similar to the synovial fluid found in healthy, young joints.